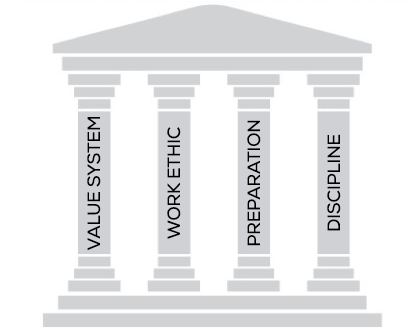 THE VILLANOVA WAY CIRRICULUM
Villanova University was founded in 1842 with a shared commitment to the Augustinian ideals of truth, unity and love; and a community dedicated to service to others. The strength of the Villanova experience comes in part from the University's welcoming community. All members are bonded together by a shared responsibility to let the principles of truth, unity and love guide their lives. The Villanova community helps student-athletes grow intellectually, professionally and spiritually, and challenges them to reach their full potential. Our summer camps are an extension of the University's strong mission.
VALUE SYSTEM
Because we have a passion for the strong bond of our community and the individual's pursuit of knowledge and learning on how to do things the right way within it, we put a strong emphasis on the values/life lessons learned by being a part of the game.
Our curriculum will demand that every player is a good teammate and plays by the rules fairly and squarely. Here are some of the main points of emphasis for all activities:
Value Teamwork.
Value Friendship.
Respect the rules of the game and others.
Be Coachable.
Be Enthusiastic.
Have Fun.
WORK ETHIC
A strong work ethic is at the core of a young soccer players' future. Having the ability to work through challenges and adversity is an important skillset to learn at an early age. Villanova soccer puts a strong emphasis on challenging players on the field with a time demanding yet fun curriculum that focuses on areas of the game that players can control through hard work.
Ability to feel good about working hard for your teammates and coaches.
Ability to stay focused throughout the transitions of the game.
Ability to turning misses into makes.
Ability to value the skillset of hustle.
Ability to try your best.
DETAILED PREPARATION
Young soccer players will learn that in order to be successful on the field and in life, they must be willing to learn and work hard at practice in hopes of being as prepared as possible for the moment of truth. Players will learn how to maintain focus every "next play" through mistakes or challenges presented from the game. These areas of the game where we will spend most of our time:
Technical repetitions. Dribbling, Passing, Receiving, Finishing.
Agility, Balance, Coordination. ABC's of the physical part of the game.
Equal emphasis on the attacking and defensive side of the ball.
Teaching the skillsets needed for specific positions.
Confidence in themselves to carry out the skillset of their position.
DISCIPLINE
Young soccer players will learn that they have to make intelligent decisions on and off the field to be successful. Areas of discipline that we will focus on:
Behavior on the Field.
Behavior in the Classroom.
Behavior at Home.
Work ethic when coaches and others are not looking.
Time Management Skills.